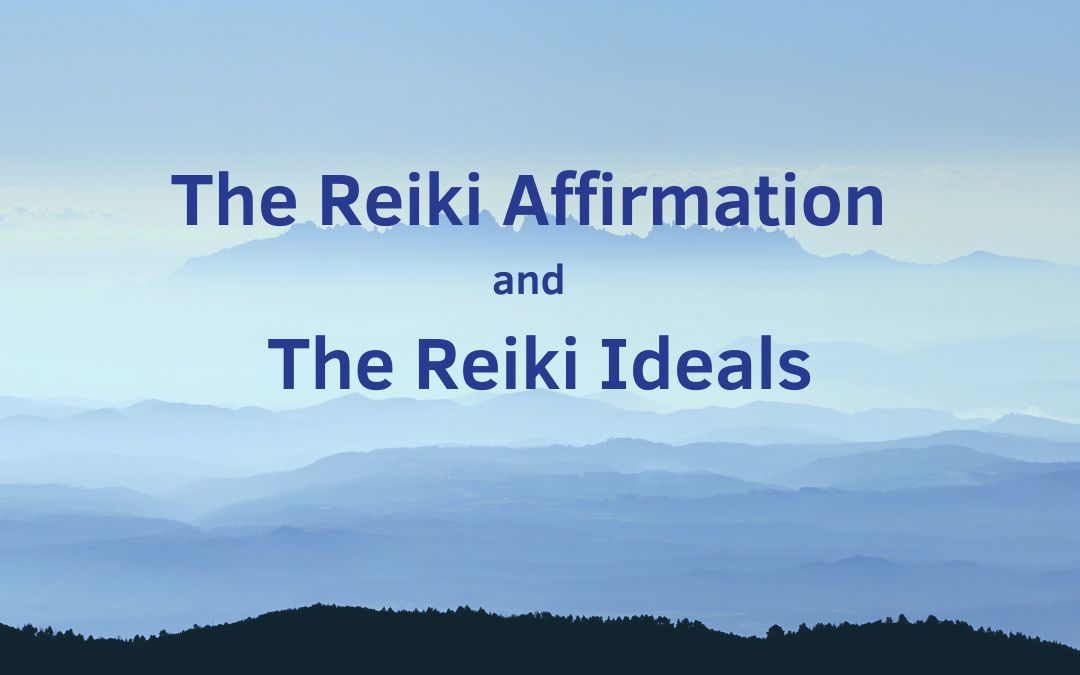 Is the Reiki Affirmation the same as the Reiki Ideals?
You may have heard both terms used to describe the set of guidelines for Reiki practitioners.
The Reiki affirmation was developed by Hawayo Takata but was based on the original Reiki ideals from Usui Sensei.
The Reiki Affirmation
This affirmation was written and widely distributed by Hawayo Takata, the mother of Western Reiki. Mrs. Takata changed the wording of the Reiki Ideals a bit and passed it on to her students.
Just for today,
I will not worry.
I will not be angry.
I will do my work honestly.
I will give thanks for my many blessings.
I will be kind to my neighbor and all living things.
The Reiki Ideals
Usui Sensei wrote the Reiki ideals to provide a framework of principles to his students. William Lee Rand, who has studied the history of Reiki extensively, says that "In order for the Reiki healing energies to have lasting results, the client must accept responsibility for her or his healing and take an active part in it. Therefore, the Usui system of Reiki is more than the use of the Reiki energy. It must also include an active commitment to improve oneself in order for it to be a complete system". 
The secret art of inviting happiness.
The miraculous medicine of all diseases.
Just for today, do not anger.
Do not worry and be filled with gratitude.
Devote yourself to your work. Be kind to people.
Every morning and evening, join your hands in prayer.
Pray these words to your heart
and chant these words with your mouth.
"Usui Reiki Treatment for the improvement of body and mind".
The founder, Usui Mikao
Breaking down the Reiki Affirmation and Ideals
Whether you use the Reiki affirmation or the Reiki ideals, you will have a set of guidelines to live your life by.
Just for today – relieves us of the burden of trying to make a permanent change. It is often overwhelming to think that you must live a certain way forever, but changing a habit "just for today" is much easier to accept.
Do not worry – implies living in the moment, without concern for what may come tomorrow. Reiki has a way of centering us in the present moment and gives us tools to find happiness and health.
Do not anger – an affirmation that reminds us that life is precious and allowing anger to rule our day is a distraction from all the beauty that surrounds us. Anger also disrupts our natural state of health and happiness.
Giving thanks – grounds us and brings our attention to the many blessings we have. When we are connected with the Reiki energy we acknowledge and appreciate the natural and radiant energy that surrounds us and the world we live in.
Kindness towards your neighbor and all living things – the final affirmation, and one that includes interacting with the world around you. During your Reiki practice, you naturally feel connected to other people and to all living things.
Summary
The original Reiki ideals from Usui Sensei and the more modern Reiki affirmation from Mrs. Takata both offer a set of guidelines to build our days around.
Taking the time each day to recite the Reiki affirmation or the ideals will reinforce their positive values and strengthen your connection to Reiki energy. Hanging them on your wall is a good way to be reminded of the intention of our original Reiki masters, which was to use Reiki to find happiness and health. 
Sources: William Lee Rand https://www.reiki.org/faqs/reiki-ideals
Join our mailing list below and receive an original creation of the Reiki affirmation (printable version).
Reiki Blessings,
Sharon
Join Our Community
Enjoy weekly articles and resources on how to use the healing energy of Reiki in your daily life.